Mada 1
Mada International Academy (MIA) was established in the year 2012 in Amman. It is located near the 8th circle in West Amman. It is approved by the Ministry of Education for the National program. It's a living unit with its own values, character and spirit.
Mada International Academy accepts students from the ages 4 to 13 years, from KG to seventh grade. The school uses modern methods of education that form a solid basis in the early stages of a child's education. It helps students to recognize their capabilities and develop their confidence in themselves to allow them to be successful in all aspects of their lives.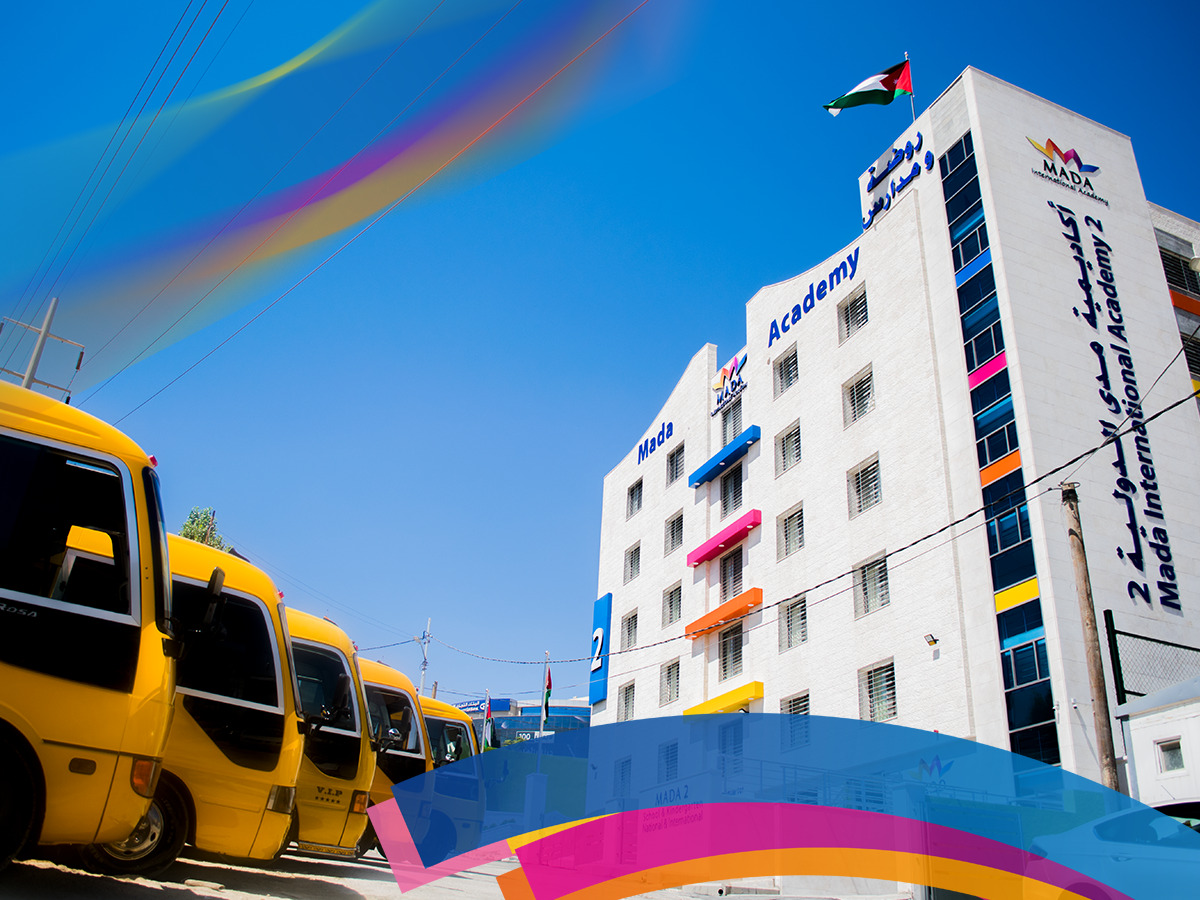 Mada 2
Due to the remarkable performance and reputation of MIA, the school experienced exponential growth in the number of enrollments to where opening another branch had become a necessity. Hence, Mada (2) was opened in the summer of 2019. It is located near the 8th Circle, Al-Rawnaq District, across from the Jordan Commercial Bank. The school offers the national and international programs. The school strikes a good balance between an advanced curriculum, a modern education, character development, and social, and religious activities. Mada International Academy 2 has a luxurious modern campus, built to meet the highest levels of international safety regulations and designed in accordance with the educational and technological standards of the 21st century.
National Program
MIA is accredited by the Ministry of Education to offer the National Program for KG – 7th grade at Mada 1 and KG – 12th grade at Mada 2.
We strongly believe in endorsing a curriculum that takes bilingualism as an opportunity to develop students' abilities and capacities in learning.
Arabic is used as the main medium of instruction and assessment in all subjects. English language and courses in sciences, mathematics, ICT and life skills are offered to all students.
Every class is delivered in both languages even in sciences and mathematics and all subjects taught in English could be perceived as a class in language acquisition.
Offering these courses as a supplement to the national program gives students the ability to recognize international scientific terms for educational contents in a consistent manner that poses no extra burden on parents and students. 
International Program
The school follows Cambridge qualifications for Cambridge Primary & Cambridge Lower Secondary (CP&SC). The system equips students with life-long transferable skills that allow progression to secondary, pre-university and higher education prospects. The Cambridge program aids teachers and parents in understanding their children's needs better, as it offers an invaluable database for every child that can be used in later learning stages according to his/her abilities. It also offers students more choices in terms of subjects and teachers higher flexibility in terms of assessment and allows student-centered education that warrants active learning, instilling confidence, responsibility, reflectivity, innovation and engagement.
Our curriculum at MIA consists of two components:
The first component is a requirement by the Jordanian Ministry of Education and includes courses in Arabic language as a first language, religious and national education.
The second component is based on Cambridge International Qualifications in subjects related to English as a second language, mathematics, sciences, information technology and global perspectives. Endorsing Cambridge qualifications allow a smooth and clear transition in students' education from national programs to international programs.
At Mada 2, we offer Cambridge Primary and Cambridge Lower Secondary (CP&CS) for the international section.
It is a system that is widely recognized by the Ministry of Education and universities in Jordan and abroad. The school is also licensed by the Ministry of Education to offer the National program for grades K-12
Mada International Academy is accredited for Cambridge Primary & Cambridge Lower Secondary, a system that is committed to supporting the continuous improvement of the quality of educational outcomes for all learners following Cambridge programs in schools around the world.
Life skills
Life skills is an essential part of being able to meet the challenges of every day life.......Mada teaches " road to success" Protect Ed " and "tafawwaq"  to build students' self esteem and help them to communicate more effectively...... Here are some activities that were applied in classes.